By: Lamonica Stackhouse
Main Point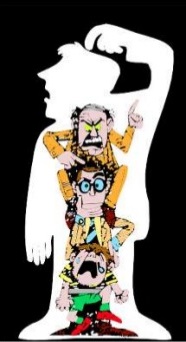 Transactionalism is a psychology idea that humans are social, multifaceted that change when in contact with another person in their world. As a theory of personality, transactionalism describes how people are structured (Wikipedia). It uses what it possibly its best known model, ego-state (Parent-Adult-Child), to do this. This model helps explain how people function and express their personality by their behavior. Transactionalism, in anthropology, was a theory first moved by Frederick Barth in 1959 to consider social processes and interactions (AnthroBase). It demonstrates social forms like kinship groups, and economic institutions. It works from individuals' actions against a context of social constraints (encyclopedia69). According to encyclopedia69, Barth acknowledged, models cannot be used to explain all kinds of human behavior, but by observing how people interact with each other, an insight can be gained into the nature of the competition, values and principles that govern individuals' choices, and also the way resources are allocated in society. It is said that transactionalism is simply a tool to gain power.
Transactionalism has implications for leadership. "Many of the politically active individuals in Swat clearly recognize the distinction between private and group advantage," wrote Barth, "and when faced with a choice they tend to consider the former rather than the latter." It is built up and maintained through the exercise of a continual series of individual choices.
There were some criticisms about this theory. Some were that the transactionalism theory ignores long term historical processes; while some have criticized it for paying "insufficient attention to the structure of class and property relations in society," encyclopedia69 states that "it is also important to acknowledge the symbolic, cultural and religious ideas that might govern peoples' choices and decisions in their social interactions." Transactionalism was criticized because of it being of social exchange but stressed self-interested actions.
Key Figures
Fredrik Barth (b. 1928)
F. G. Bailey (b. 1924)
Key Texts
- Conversi, Daniele. "Reassessing current theories of nationalism: nationalism as boundary maintenance and creation." Nationalism and Ethnic Politics 1.1 (1995): 73-85.
- Hedican, Edward J. "Some issues in the anthropology of transaction and exchange." Canadian Review of Sociology/Revue canadienne de sociologie23.1 (1986): 97-117.
- Louis Dupree, Fredrik Barth, C-J. Charpentier, Joyce Pettigrew, Mark Slobin and Bahram M. Tavakolian Current Anthropology Vol. 18, No. 3 (Sep., 1977), pp. 514-518
References
Encyclopedia69.com